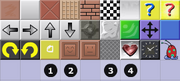 A block is a unit of space which can hold a single piece. A player takes up two blocks while standing and one block when crouching.
A block can also be a normal piece in a level which has no specialties and can do nothing but block the player or allow the player to stand on the item. Blocks are in most typical levels.
Types Blocks
Edit
See Also
Edit

This is a
stub
. You can help Platform Racing 2 Wiki by
expanding it
.