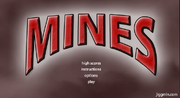 For mines of item, see Mine (Item).
For mines of block, see Mine Block.
Mines is a game created by Jiggmin.
Player got stuck in some kind of demented mine field. Player must stop exploring mines before they explode.

This is a
stub
. You can help Platform Racing 2 Wiki by
expanding it
.
Gameplay
Edit
In this game, player uses mouse. By clicking mines, player can reset mines before they explode.

By clicking items, player can get some items.
-1000 points

Player loses 1000 points.

+1000 points

Player gets 1000 points.

freeze

The time will be frozen.

power shot

Player can destroy one mine once. However, player can shot only once[1].

reset

All mines are reset.

??????

A secret item.
Spoiler Warning:This contents has the spoiler about a secret item on Mines.
Click [Expand] and show the contents.
Relief

(Insect Summary and pictures here.)
↑

During player has power shot, if player get another items, player won't lose the shot.