Platform Racing 2 Wiki(Be referred to as "PR2 Wiki") is a wiki that about Platform Racing 2(Be referred to as "PR2") and Jiggmin.
What is PR2?
Edit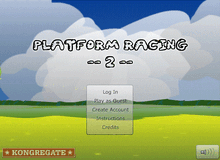 Platform Racing 2(PR2)is a two-dimensional online racing game created byJiggmin. It is the sequel to Platform Racing, the first game in the series.
Main article: Platform Racing 2
Goal of Wiki
Edit
The Goal of PR2 Wiki is to create the articles about PR2. But, that's not all. There's other goals.
To add fun contents on PR2 Wiki.
To make PR2 Wiki more famous.
To make PR2 Wiki more bustling.
And more what I can't conceive.
How to Edit
Edit
Main article: Help:Starting this wiki
See Also
Edit
Ad blocker interference detected!
Wikia is a free-to-use site that makes money from advertising. We have a modified experience for viewers using ad blockers

Wikia is not accessible if you've made further modifications. Remove the custom ad blocker rule(s) and the page will load as expected.