Uber Space Shooter is a shooting game created by Jiggmin.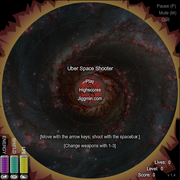 Player has 3 lives. By completing the level, player can go to next level. If player get enemies' attack, or hit the wall or enemies, player gets damage and lose shield. When player get damage with no shield, the player's life decreases. If player lose all life, player loses one life. If player loses all lives, player is game over.
Move with arrow keys
Shoot with space bar
Change weapons with 1, 2 and 3 keys
Energy-Your energy to shoot.
Shield-Your shield.
Life-Your life.
There are three types of weapon.
Normal.
Looks really small, use fewer energy.
Gives a huge damage, use much energy.
Items are appeared once each levels.
There are 10 levels.
Spoiler Warning:This contents has the spoiler about All levels on the game.
Click [Expand] and show the contents.
Level 1

Level 2

Level 3

Level 4

Level 5

Level 6

Level 7

Level 8

Level 9

Level 10

This is a
stub
. You can help Platform Racing 2 Wiki by
expanding it
.

This is a
stub
. You can help Platform Racing 2 Wiki by
expanding it
.
See Also
Edit
Ad blocker interference detected!
Wikia is a free-to-use site that makes money from advertising. We have a modified experience for viewers using ad blockers

Wikia is not accessible if you've made further modifications. Remove the custom ad blocker rule(s) and the page will load as expected.